If you are searching on Google for load balancer comparisons, as I just did, you will come across some blatant sales pitches from various vendors. They use dubious figures to prove that they are better than F5 Big-IP or Citrix Netscaler.
I've also been guilty in the past of writing a blog entry or two that may have exaggerated the benefits of Loadbalancer.org over Kemp Technologies. For the record I think they are a great company and our only serious competitor at this end of the marketplace.

With so much bias everywhere, how do you compare load balancer vendors and products? Researching any product can be frustrating, but the good news for customers is that the load balancer market has been around for a long time, and has followed the usual technology adoption curve: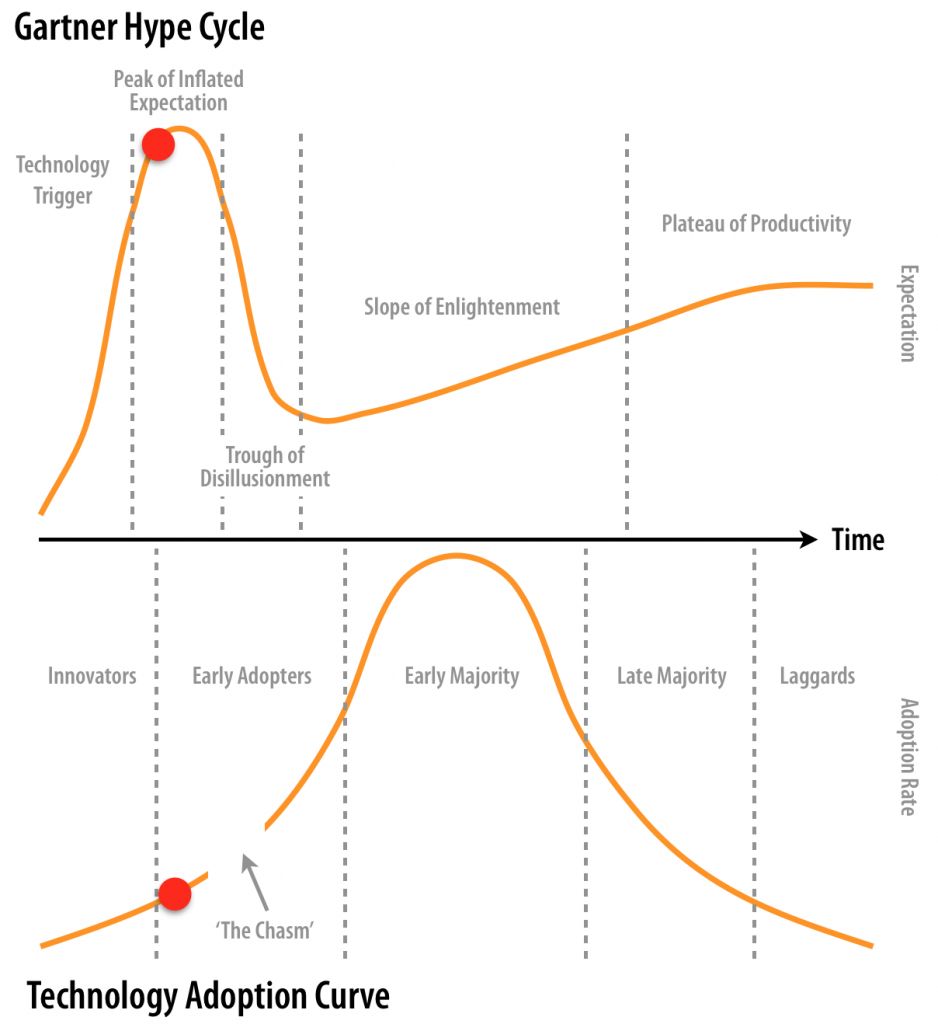 I created Loadbalancer.org in 2002 partly because I was frustrated with the cost and complexity of the CISCO local director - the first real load balancer - way back in 1996. By the time Loadbalancer.org was getting off the ground with an open-source LVS based solution, F5 was becoming the market leader (F5 BigIP was launched in 1997). The fundamentals of layer 4 and layer 7 load balancing have not changed since around 2002. Just renaming something an application delivery controller doesn't change the fact that it's still primarily a router/proxy with health checks.

We are clearly at the end of the technology adoption curve which means several good things for prospective customers:
The price of the technology is as low as it can possibly get, although I'm sure some people will disagree.
All vendors and products have roughly the same features, as we are at the 'plateau of productivity'.
Late adopters demand easy-to-use appliances with simple fixes to application delivery requirements.
This has obviously had implications for load balancer vendors in the market:
UPDATE 2019: A lot of people were shocked by the recent F5 purchase of NGINX+ for $670 million when it was only turning over $26 million with way less than zero profit.
I think NGINX+ sucks, but F5 definitely HAD to buy it because they had no decent solution for the rapidly growing DevOps market. I guess 40 million raving fans of the NGINX web server helps with branding as well. AVI Networks has a much better offering (if a little immature) - and they've just been bought by VMware.
So that's the shape of the market - what about the products?
How should you compare load balancers when they are all very similar?
Let's assume that you have done the obvious and typed "load balancer" into Google. You've had a look at the top couple of results, which probably gives you F5 and Barracuda Networks. A quick look at the prices confirms that you are probably not in the F5 price bracket. So you dig a little deeper and come across Kemp Technologies, who, unlike Barracuda Networks, only sell load balancers. They also seem to have lots of customers and information about load balancing various applications. Fingers crossed, you might even come across Loadbalancer.org!
After this (extensive?) research you decide the three most logical vendors to buy a load balancer from are:
Barracuda Networks, Inc. - A big, blue, open-source based appliance, usually bought through resellers. If you don't care about quality and you want to buy as cheaply as possible. (LVS + HAProxy + Linux)
Loadbalancer.org, Inc. - A small red and white open-source appliance, usually bought directly. You like the idea of a vendor who gives a damn. (LVS + HAProxy + Linux)
Kemp Technologies, Inc. - A medium-sized yellow appliance, open-source based, usually bought through resellers. Offers a focus on feature range and rapid growth. (LVS + Linux)
How about asking each vendor some simple questions?
"I need a load balancer for a couple of web servers, how much is it?"
"What performance or bandwidth restrictions do you put on the cheapest models?"
"What feature restrictions do you have on the cheapest models?"
"What are your support costs and who will be supporting me?"
"Why should I use you and not Loadbalancer.org?"
Did you notice what I deliberately did not ask?
I didn't ask anything about the load balancer's features, because we already know the market is mature and I have no unusual requirements. I also didn't ask about the load balancer's maximum performance, because all load balancers are very fast.
By now you should be getting a good feeling for how responsive the vendor is - or how responsive the sales team are, at least.
What else should I look at before committing time and effort to a free trial?
I like to look at actual customer reviews - try Gartner Peer Insights or AWS Marketplace Reviews, before googling for independent reviews.
Then have a quick browse through the deployment guides. Reviewing the product matrix and features might be worthwhile at this point as well. I'm usually looking for things that look odd or out of place - it's about gut instinct, really.
A confession, incidentally: I've never been very happy that Loadbalancer.org restrict our entry-level appliance to 5 VIPs and 4 RIPs (5 clusters of 4 backend servers), and it's my own company! Unfortunately I can't think of a better way to segment our customer base, and it's a much better solution than restricting support, features, bandwidth or performance.
Finally, you'll want to take a closer look at the actual load balancer appliance, which is pretty easy as all vendors supply a virtual appliance for testing. If you are in a real hurry then look at the online demonstration, but personally I think you should commit at least 20 minutes of your time to downloading the virtual load balancer appliance and actually configuring it. How many times have you downloaded a trial, got distracted and then forgotten all about it?
Make the effort and get it done.
While you are in the trial be ready to fire any questions at the vendor to test their response time. If you want, why not ask them to do a WebEx demo for you?
So my conclusion to 'How should you compare load balancers?' is:
However you like!
But please let us know how you think we stack up against the competition, because we would love to know.
++++++++++
I thought I was finished. But....
I've already had some private feedback from a couple of ex-Coyote Point Systems folk who seem happy enough with my comments. However JetNexus and Commercial HAProxy were a bit miffed I hadn't mentioned them. They're both great companies so I'm adding the links here.
I've also just got back from the IPExpo trade show in London (separate blog entry to follow) and a couple of conversations reminded me that there are resources you shouldn't use to decide on an ADC:
Research from Gartner
Advice from a reseller
Your 14-year-old son
Gartner showed great timing in releasing its Application Delivery Controller Magic Quadrant (2015) - it's always a good laugh to see what rubbish they are spouting this year.
I haven't read the report; I've only seen the vendor press releases and the picture. But I don't need to read it because I've had plenty of conversations with Gartner in the past and it's always a waste of time unless you pay them money. A classic example was when one Gartner salesperson (sorry, researcher) told me that I could now have Loadbalancer.org in the magic quadrant because they'd reduced the entry sales level to include Barracuda Networks! (They had less sales than us at the time.)
What did I say? Something like 'get stuffed', I seem to recall.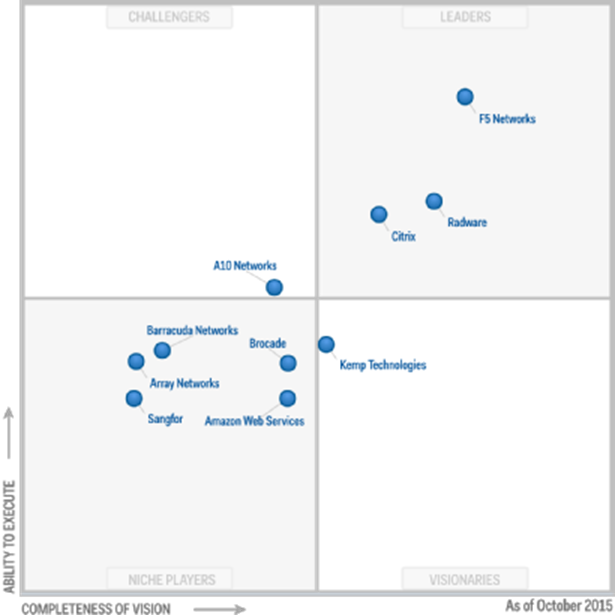 Can Gartner justify their research? Of course they can, and I vaguely agree with the quadrant (at least F5 is still at the top right). But there's a deep irony in their blog comment that 'the DevOps teams typically prefer...open-source such as HAproxy/Nginx versus the corporate IT standard (F5, Citrix, etc)'- because they don't show the commercial vendors HAProxy, NGINX or Loadbalancer.org in the quadrant!
[UPDATE January 2018] Gartner has finally seen the light.
They now also take into consideration real customer accounts of the purchasing and deployment process. You can check what customers having been telling Gartner about Loadbalancer.org, Barracuda Networks and Kemp Technologies on the new PeerInsights platform.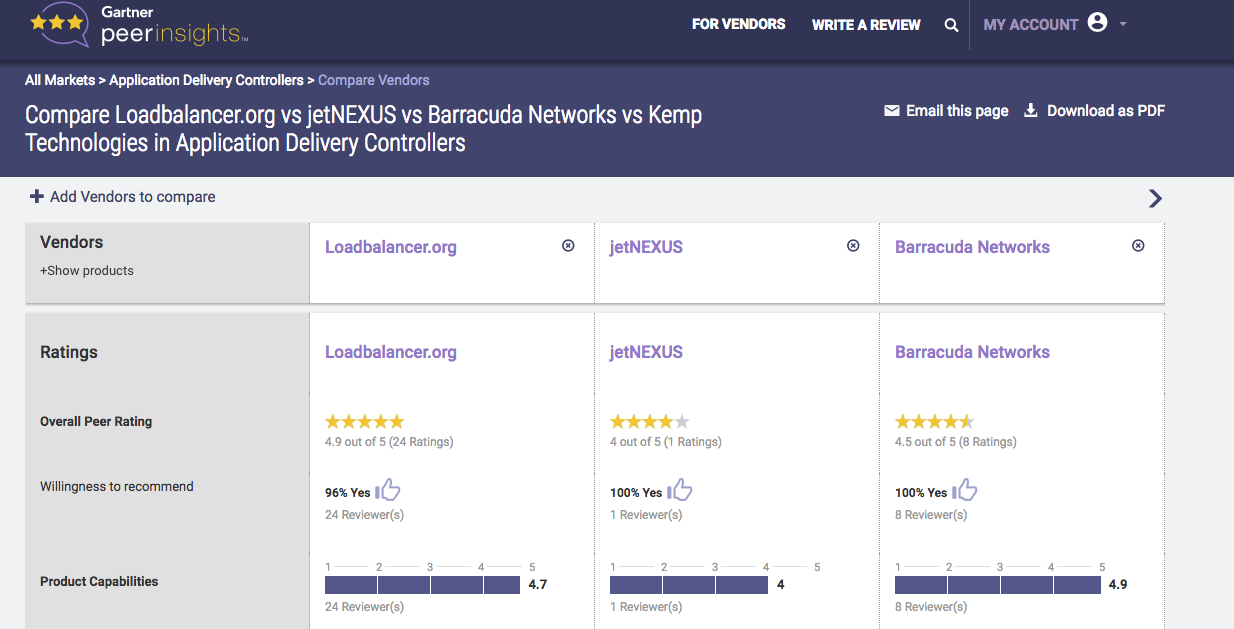 Why not just trust your reseller?
We had a customer last year who had a relatively complex multi-site exchange installation painstakingly designed by our support team. The happy techies in this very large company asked their purchasing department to buy 6 of our top-end R320 load balancers and 5 years support from a reseller.
And what did the reseller do when we ONLY offered them a 15% commission (for doing nothing)? Convinced the purchasing department to buy 6 units from Kemp Technologies instead!
Recently this reseller did the same thing again, effectively blackmailing us for more money when one of our customers approached them. We had no choice but to pay up, because it was a customer we'd only been working with for 6 months.
Softcat, lying to your customers and screwing your vendors on price is not good business practice.
And finally...
Never ask a 14 year old to perform a load balancer comparison, especially if they like explosives:
[Sorry, video removed — Just in case social services see it..]
I started this blog talking about dubious figures — so let's end it with a reasonably honest and straight forward comparison table:
F5 & Citrix Netscaler vs Kemp Technologies and Loadbalancer.org:
Model
Price inc. 24/7 Support
SSL (TPS)
Throughput
WAF
GLSB
Enterprise R20
$4,990
3,158
3 Gbps
Enterprise 10G
$9,990
3,158
13 Gbps
Enterprise Ultra 40G
$17,490
11,219
38 Gbps
BIG‑IP 2000S
$20,154
2,000
5 Gbps
BIG‑IP 5050S
$58,494
10,000
15 Gbps
BIG‑IP 11050S
$175,494
20,000
40 Gbps
NetScaler MPX‑5550
$27,360
1,500
0.5 Gbps
NetScaler MPX‑8005
$41,300
6,500
5 Gbps
NetScaler MPX‑8600
$61,360
9,000
6 Gbps
LM-X3
$5,200
1,700
3.4 Gbps
LM-X15
$12,700
12,000
15 Gbps
LM-8020
$52,000
30,000
31.4 Gbps
References:
Citrix vs Nginx+:
https://www.nginx.com/blog/nginx-plus-vs-citrix-netscaler-price-performance-comparison/
F5 vs Nginx+:
https://www.nginx.com/blog/nginx-plus-vs-f5-big-ip-a-price-performance-comparison/
Kemp vs F5 vs Citrix:
https://kemptechnologies.com/uk/compare-kemp-f5-big-ip-citrix-netscaler-hardware-load-balancers/
Gartner:
https://www.gartner.com/reviews/market/application-delivery-controllers/
Loadbalancer.org:
https://www.loadbalancer.org/products/hardware
We love your feedback!
So please leave a comment - and feel free to speak your mind.